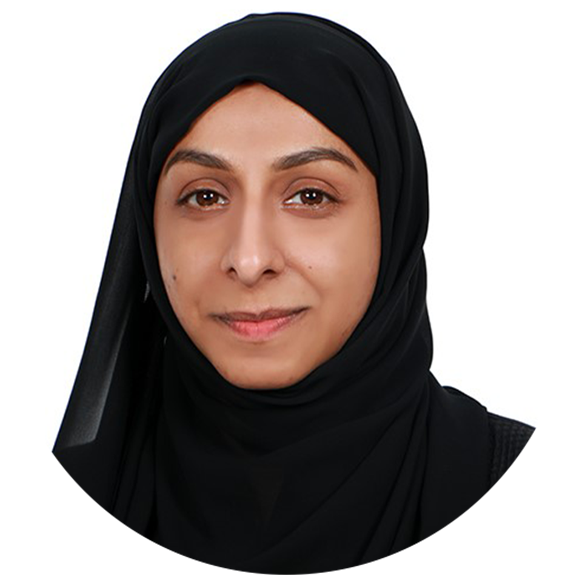 DR. HESSA JAFFER HASSAN AL JAWI
Education:
Bachelor degree of Pharmacy from Higher Colleges of Technology University
High Diploma degree of Pharmacy from Higher Colleges of Technology University
Executive summary:
She has 10+ years of rich experience in Dubai Health Authority (DHA) and Dubai Municipality (DM): DHA: Pharmacist in 2008 – 2010
DM: principal safety officer 2011 – 2019 and acting section manager in 2020
Extensive experience in the field of consumer products (pharmaceutical non-medicinal products) safety and their regulations and standards
Well versed in improving services and customer experience and journeys in the field of health and safety
During my work, developed & managed the operations of many important programs in the section that have a strategic impact on both Dubai & Municipality strategic plan such as registration of different categories of consumer products (e.g. Health Supplements, cosmetics and personal care products, fragrance, disinfectants, biocides and recently Toys, food contact material), in addition to the related programs as consignment control. In addition, managing health and safety permits in the emirate of Dubai.
As a member, participated in high level federal and local government committees responsible for evaluation of consumer products policies, regulations and safety.
Highlights
Member of Expo 2020 safety permits team
Member of internal crisis committee for COVID-19 response
Member of the federal committee supervised by the Ministry of Health and Prevention UAE for general sale products regulation and classification
Effective roles and participation in developing the "Invest In Dubai" platform – an HH Hamdan Bin Mohammad initiative 2021 – continued
Effective role and participation in reducing the services requirements by 30% and improving the doing business in Dubai – an HH Hamdan Bin Mohammad initiative 2021 – continued
Developed and updated standards and regulations in different health and safety fields as per the best practices internationally
Member of the main supporting winning team of Hamdan Bin Mohammed Program for Smart Government in 2017 (Montaji Initiative)
Contributed efficiently in the enhancement of the consumer products consignments import / re-export services and integration with other related government authority (Single Window Project) 2021 –